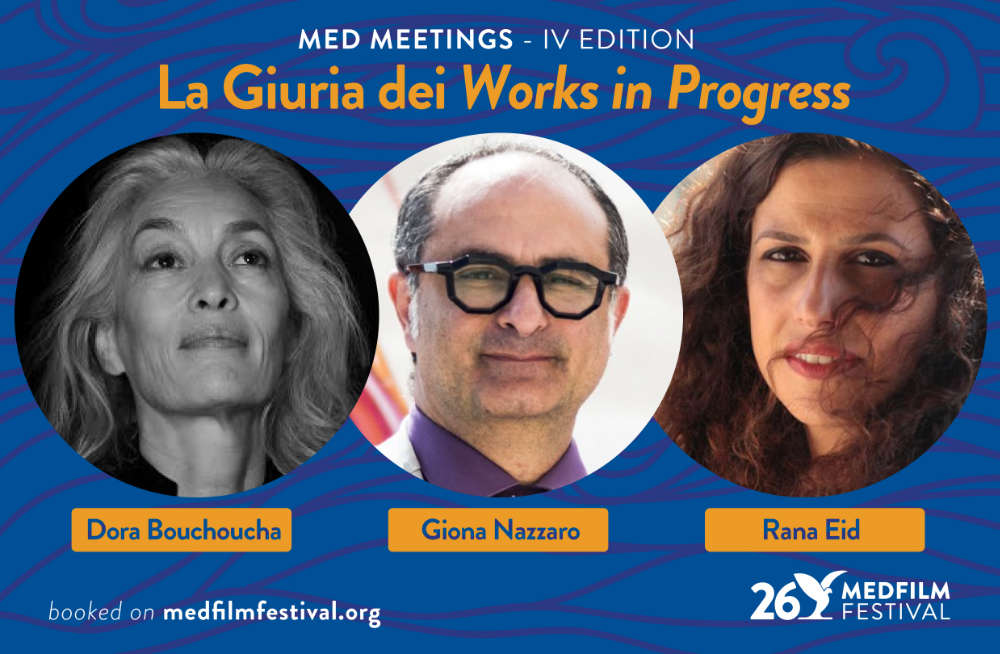 MedFilm Festival announces the official Jury of Works in Progress, the new activity born within the MEDMeetings for the 2020 edition.
These are the three Jury members called to declare the winner among the works selected for the workshop:
Dora Bouchoucha
Producer
Dora Bouchoucha has been a film producer since 1994. She has produced and co-produced several award winning documentaries, short and feature films including Satin Rouge, Buried Secrets and Foreign Body by Raja Amari, Inhebbek Hedi and Weldi by Mohamed Ben Attia.
She founded the Carthage Film Festival Projects' workshop in 1992 and Takmil in 2014. She also founded the Sud Ecriture workshops in 1997, which she has been running since. Bouchoucha was a permanent member of the International Rotterdam Festival CineMart Board for more than ten years and was consultant for Arab and African films for the selection board of Venice Film Festival from 2007 to 2011.
In 2010, she was appointed head of Fonds Sud and in 2012, she was appointed President of the CNC "Aide Aux Cinémas du Monde". She was head of Carthage Film Festival in 2008, 2010 and 2014. She was member of the Berlinale Jury for feature films in 2017 and of the debut feature films at Venice 2020. She is a member of the Academy of Motion Picture Arts and Sciences.
Rana Eid
Sound Designer / Filmmaker
Rana Eid was born in 1976 in Beirut.  She has graduated with a Bachelor of Arts in Cinema and a Masters of Arts in Film Sound both from the Université Saint Joseph, IESAV in 1999. In 2002, Eid has followed sound editing trainings in Paris.  
She has worked as sound editor since 2003 on various Lebanese films, collaborating with a number of acclaimed Lebanese filmmakers such as Joanna Hadjithomas and Khalil Joreige, Ghassan Salhab, Mohammad Soueid and Philippe Aractingi.
In 2006, Eid has opened DB Studios for audio post production with composer Nadim Mishlawi. The studio would be offering starting 2017 new services in partnership with the French company Hal. Since then she is working on films from the region (Syria, Jordan, Palestine, Soudan), teaming up with established filmmakers as well as emerging talents. She lately works on two Oscars nominees films, The Cave by Firas Fayyad, and Honeyland by Tamara Kotevska and Ljubomir Stephanov.
In 2017, she directed her first feature documentary Panoptic, which premiered in Locarno Film Festival, and participated in many festivals including MedFilm. In 2020, she became member in the Sound Section in the Academy of Motion Picture Arts and Science.
Giona A. Nazzaro
Critic / Journalist / Programmer
Giona A. Nazzaro is the General Delegate of Venice International Film Critics' Week since 2016 and member of the artistic committee of the IFFR – Festival di Rotterdam. He's programmer and curator for Visions du Réel in Nyon and also collaborates with Locarno Film Festival.
Nazzaro has worked as programmer for Torino Cinema Giovani, Florence's Festival dei Popoli, and Rome Film Festival. He was curator of the exhibition "The De/Sign of Cinema" (Cagliari, 2015). 
He is author of books and essays on Gus van Sant, Spike Lee, Abel Ferrara, Hong Kong cinema and postmodern action films. He wrote the books "Il cinema di Hong Kong – Spade, kung fu, pistole, fantasmi" (Le mani, 1997), "John Woo – La nuova leggenda del cinema d'azione" (Castelvecchi, 2000), and "Il dizionario dei film di Hong Kong" (Universitaria Editrice, 2005). His essay "Action – Forme di un transgenere cinematografico" (Le mani, 2000) won the Barbaro / Filmcritica. He wrote the collection of short stories "A Mon Dragone c'è il Diavolo" (Perdisa Pop, 2010).
As a freelance journalist, he contributes regularly for the daily il manifesto, the weekly Film Tv, the magazine Micromega, and several website. He was among the founders of magazine Sentieri selvaggi.